Creative Life Core Connections links:

There are as many arts mediums with which to express yourself through as there are organizations to join and find your community. Discoveries are made every day in the arts. What discoveries do you want to make?
Whatever your creativity interests, a trip to the internet can be eye-opening experience to see what other practitioners or organization are doing. Regardless of experience level, there are wonderful resources for learning something new, polishing an existing skill, or trying a different field of creative connection.
Joining one, or more, of these groups locally, nationally, or internationally can be an exciting way to expand your range and meet new people. Have fun exploring websites and social media, checking out newsletters, blogs, vlogs, YouTubes, Etsy, Pinterest, etc. It's an exciting world of creativity!
Resource Organizations & Museums Links List:
AIGA, Professional Design Association
AFTA, Americans for the Arts
ATWB, Art Therapy without Borders
AoAC, Alliance of Artists Communities
AWA, American Women Artists
CAA, College Art Association
IA&A, International Arts & Artists
IAWM, International Association of Women's Museums
IMOW, International Museum of Women/a>
NAEA, National Art Educators Association/a>
NAIA, National Association of Independent Artists
NASAA, National Assembly of State Art Agencies
NAWA, National Association of Women Artists
NLAPW, National League of Pen Women
NMWA, National Museum of Women in the Arts
NSA, National Society of Artists
NWHM, National Women's History Museum
National Women's Studies Association
Smithsonian Women's History Museum/a>
WCA, Women's Caucus for Art
WGoA, Women's Guild of Artists
Creativity Books:

"The Artist's Way: A Spiritual Path to Higher Creativity," 25th Anniversary Edition, Julia Cameron, 2002
"The Book Of Doing; Everyday Activities to Unlock Your Creativity and Joy," Allison Arden, 2012
"It's Not How Good You Are, It's How Good You Want to Be," Paul Arden, 2003
"Art & Fear: Observations on the Perils (and Rewards) of Artmaking," David Bayles & Ted Orland, 2001
"Contagious: Why Things Catch On," Jonah Berger, 2016
"Ways of Seeing," John Berger, 1990
"The Myths of Creativity: The Truth About How Innovative Companies and People Generate Great Ideas," David Burkus, 2013
"Creativity, Inc.: Overcoming the Unseen Forces That Stand in the Way of True Inspiration." Edwin Earl Catmull, co-author, Amy Wallace, 2014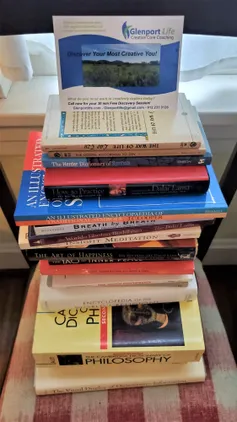 "Lateral Thinking: Creativity Step by Step," Edward de Bono, 2015
"Drawing on the Right Side of the Brain: The Definitive, 4th Edition," Betty Edwards, 2012
"Flow: The Psychology of Optimal Experience," Mihaly Csikszentmihalyi, 2008
"The Order of Things: An Archaeology of The Human Sciences," Michel Foucault, 1994
"Big Magic: Creative Living Beyond Fear," Elizabeth Gilbert, 2016
"The Thinker's Toolkit: 14 Powerful Techniques for Problem Solving," Morgan Jones, 1998
"Thinking, Fast and Slow," Daniel Kahneman, 2013
"Creative Confidence: Unleashing the Creative Confidence Within Us All," Tom Kelley, David Kelley, 2013
"Steal Like an Artist: 10Things No One Told You About Being An Artist," Austin Kleon, 2012
"One Small Step Can Change Your Life: The Kaizen Way," Robert Maurer, 2014
"Imagine: How Creativity Works," Jonah Lehrer, 2012
"The Opposable Mind: How Successful Leaders Win Through Integrative Thinking, Edition 1." Roger L. Martin, 2007
"Thinkertoys: A Handbook Of Creative Thinking Techniques," 2nd Edition, Michael Michalko, 2006
"A Whack on the Side of the Head, How You Can Be More Creative," 25th Edition, Roger von Oech, 2008
"The War Of Art: Break Through The Blocks & Win Your Inner Creative Battles", Steven Pressfield, 2012
"On Photography," Susan Sontag, 2001
"The Creative Habit, Learn It and Use It for Life," Twyla Tharp, 2003

Personal Creativity Projects: Try something new and see where it takes you?
Blogging & Vlogging: There are so many digital outlets to share your self-expression.
Happy Habits: Create new creativity habits, examine what works, or learn new skills.
Journaling: Write, draw, dialogue with your creative core self in a journal or digitally.
Vision Boards: Identify your vision, clarity, reinforce affirmations, intentions.
Creativity is a joyful wellspring we all have within us!
TED Talks on - Creativity

"Your Elusive Creative Genius" by Elizabeth Gilbert. To be creative, you have to be afraid, rejection, failure, even success.
"How to Build Your Creative Confidence" by David Kelley. Not everyone is labeled a "creative" but everyone has the ability.
"Embrace the Near Win" by Sarah Lewis. "How do we convert success into mastery?"
"Tales of Creativity and Play" by Tim Brown. Encouraging playfulness can improve people's mood, increase creativity.
"Where does Creativity Hide" by Amy Tan. Digs deep into the creative process, looking for hints.